Anacrusis shows the ingeniousness of Left 4 Dead
Anacrusis lacks many of the things I would normally refer to when describing the fun of a shooter.A recent patch made its Plasma Rifle no longer pew pew guns and more plop plop The gun and a bit of bass do help make the weapon feel less toy, but it still behaves rigidly and simply, as if it were a UI element rather than an object. Despite some recent improvements to the animation, alien enemies may appear like holograms that don't actually inhabit space or feel the effects of hissing plasma bolts. I do like that, sometimes they inexplicably launch vertically on death, but sadly a recent patch reduced the frequency of self-launching dolls' launch.
Anacrusis is fun anyway, which speaks to the power of its Left 4 Dead bones: as four players desperately try to sweep away a flood of dashing aliens without being engulfed, weapon and enemy sophistication doesn't seem all that important . Anacrusis is Early It's in early access though, so I don't recommend it right now unless you have PC Game Pass. Slots in Left 4 Dead-style co-op missions can be filled with bots, but it won't start unless I'm matched with at least one other player, which can take time. Private matchmaking is not yet supported.
I respect Anacrusis for choosing to be a cooperative game above all else. Even in this early state, it has good built-in voice chat and cross-play. In a meeting a few weeks ago, I had a great time chatting with a rare player who used their mic, even though we were competing with the hilarious constant barking of characters. Here's an actual transcription of 23 seconds in-game: Got the jar! I have to drop this thing! I'm throwing it away! caught it! Barbarian! Barbarian! Gollum! Ovipositor! Goo! Drop the jar!
You can lower the character dialogue volume slider to zero if you like, but the chatter is a useful illustration of how much The Anacrusis feels like the long-lost Left 4 Dead sci-fi prototype. Each player controls one of four characters (though right now they don't have much besides different voices and different blank stares on their faces) as they escape deadly hordes of common and special aliens . Makes sense: Former Valve writer Chet Faliszek is one of the studio's founders, along with former Riot Games technical designer Dr. Kimberly Voll, whose AI expertise contributes to The Anacrusis' greatest strengths.
Like Left 4 Dead, Anacrusis has an AI "director" who controls the pressure on the hoses that pump enemies into the level, adjusting the challenge as the squad rushes toward a safe room at one end of the map. My squad and I have been brought to the brink of total annihilation several times, which is enough to make it seem like it's no coincidence – the AI ​​seems to be at work. Aliens may lack personality, but it's still fun to climb back from the brink of defeat, methodically flushing swarms of them with laser beams, or crouching in front of a choke point and bombarding them with energy shotguns.
There's some other cool stuff coming out of The Anacrusis. I love that everyone can trigger self-centered kinetic blasts that push normal aliens away. It's a satisfying move, especially when a bunch of aliens are thrown into the air like a bunch of Agent Smith in the second Matrix movie, and I'm not disappointed by the lack of Counter-Strike-style melee attacks , which wouldn't be of much help. In addition to the very familiar beasts, glue shooters, and tongue grabbers, there's a new special alien type. The flash engulfed this level in super bright light, which was convincing enough to trigger my squint reflex. It feels as captivating as the results of the 2009 graphics modders' first discovery of blooms, and it's fun to go back to the white-hot center of the mini-sun to kill them.
Speaking of graphics mods, support for mods is an explicit part of The Anacrusis' plans, which gives a good impression that it's really a decade-old Source engine game. Right now, though, I don't think The Anacrusis is any more engaging than the decade-old Source engine game it emulates.It shows that Left 4 Dead is still fun even if you take away the funny characters, guns, atmosphere and fear, but it certainly isn't more pleasure.
When I think of Left 4 Dead, I think of a hospital, a church, and a forest, and I think of being in the dark, scared and fleeing from drooling creatures that want to rip my flesh from my bones. By contrast, Anacrusis's giant spaceship is a line of bright, sleek '70s sci-fi rooms that are more of an arena shooter than a human habitat. There's a cool spot where you walk through a field of flowers in the "outdoor" area of ​​the boat (I kind of reminded me of Hero Sam), but overall the consistency of the architecture yielded something with the Vegas theme Hotels have the same effect. One space functions differently than the other, but they are all made of the same materials and have the same bright lighting. Maybe The Anacrusis captured what life would actually be like on a giant futuristic spaceship, in which case I'm glad I wasn't born on this ship.
But whether I like the setting or not, I lay on my back and desperately shoot aliens to protect strangers trying to pick me up, and vice versa, which creates a warm feeling and gives us a sense of adventure. We may not know or care what the end of the level is, but if we let each other down, damn it. Co-op creates instant bets. Left 4 Dead is an excellent game.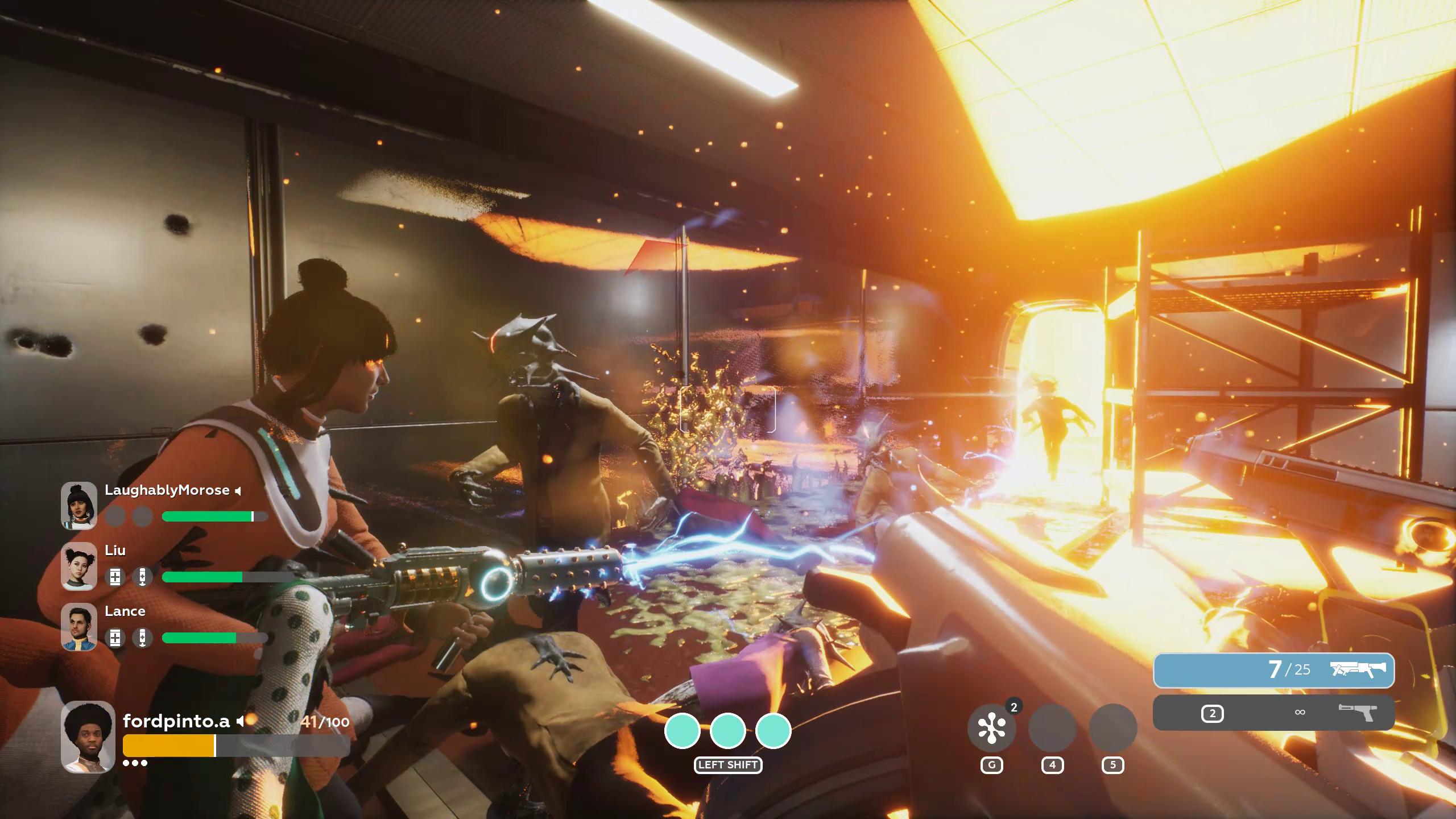 Still, is that enough to make The Anacrusis a success? There was a time when it felt like Left 4 Dead 2 would forever be the ultimate four-player horde shooter experience, but the competition is fierce these days. Original Left 4 Dead studio Turtle Rock (split from Valve in 2011) recently released its own L4D successor, Back 4 Blood. There's also Deep Rock Galactic, GTFO, and a new Rainbow Six pickup. In the near future, Dishonored and Prey studio Arkane will be entering the genre with Redfall. Given the talent behind it, Anacrusis deserves another look when it releases version 1.0, which should happen around the end of the year, and I hope it has come to the fore more convincingly by then.