I built a city on the monster's back and fed it mushrooms with a trebuchet in a wandering village
I'm not sure what my speed record for falling in love in a video game is, but the moment I saw Onbu Wandering Village My destiny is doomed. Onbu is a giant six-legged dragon that handles the wandering in this village building sim I'm in charge of, which sits on the huge plateau that forms Onbu's back. I instantly fell in love with this gentle, awkward giant and all I wanted to do was make sure Onbu loved me too.
This needs to be done.
In The Wandering Village, the planet is slowly being destroyed by poisonous spores, and the only hope of survival is to build a sturdy little society on the backs of this world-travelling creature. This means that when Onbu walks through the village, the village experiences different biomes, such as dry areas where water is hard to get and plants are hard to grow, or toxic areas that can infect villagers and even make Onbu sick. It's a smart way to completely change environmental conditions while staying in your small city.
Onbu was sleeping when I started the demo, so in typical city building fashion, I dispatched my 16 villagers to chop down trees, collect stones and start building. I had them build tents for shelter, a farm to grow sugar beets, and a research center to unlock new technologies. Soon there will be a forager's hut to collect berries for food, and a device to draw water from the air, each villager's quest (building, gathering, cooking) can be done with the click of a button or adding or removing In addition to workers to easily prioritize in each structure.
When I finished building my first few buildings, Onbu suddenly moved, woke up, and stood up. Then we set off. Slowly but surely.
The problem is that Onbu, at least initially, didn't care that I was scrambling to build sawmills and quarries behind it. It stops when it wants, sleeps when it wants, and it chooses its path without any input from me. There was no way to even communicate with my massive taxi until I researched and unlocked a big horn, and even after assigning a small villager to honk it, Onbu rarely listened when I told it to lie down, walk or run I say. Why do this? It has no reason to believe me.
However, this situation is slowly changing. I focus on unlocking tech to make life easier on Onbu, like a food trebuchet. After building a dedicated kitchen to cook with the mushrooms I grew on its back, I had a citizen transport the food out of the village and deliver it straight to Onbu's mouth. This might be the funniest thing I've ever fed a creature in a game, ever?
I also built a little hot air balloon so the doctor could fly out of the village to heal Onbu when he got sick from poison spores on the roads in some places. Once I gave Onbu some reason to trust me, it finally started listening (sometimes) when I honked the horn for instructions. This is very important. If we were going to a desert on the map, I might want to put the Onbu into rest mode while collecting as much water as possible, or assign extra workers to the farm. And, while I don't know if this helps, I tell Onbu to walk through toxic areas in the hope that spending less time in those areas will reduce the chance of infection. It's very satisfying when the big creature is listening, but also sometimes when it's not. Onbu shook his head and told me it would do its own thing. This is fair.
There are many more… practical options in the tech tree, although I find them almost unimaginable.I was shocked to see that there is a fecal collector you can unlock Get into Onbu's back, which reduces the creature's trust in you. why not? Don't drill through a creature's body in order to collect its poo, no matter how much you need it for farming. There's also a blood extractor, which not only damages Onbu's trust, but also reduces its health. Blood can be used to make delicious pudding for your villagers, but oh my gosh. I don't think I can use any of these devices. I just want to make Onbu happy, damn it.
I also need to keep my villagers happy and healthy, which can be challenging at times. They really don't like beet soup and living in tents, and as a result their productivity suffers, which means I sometimes run out of food and other resources. I can definitely see the benefit of boosting crop yields with some fertilizer, and eating some delicious blood pudding might make my citizens better workers. But instead, I focused on unlocking the wheat I hoped to use to make the bread, and eventually I had enough wood to replace the tent with a suitable hut. Balancing which to unlock first, something useful to your villagers or friendly tech to the monsters your village builds, is a bit tricky.
I think zoom levels are very important in city builders – it can be a little frustrating when you can't zoom all the way in to really understand your citizens and what they're doing (eg in Frostpunk). There are no complaints here at Wandering Village. Push the camera in and go from an overhead view of the village to a near side view, and you can literally see your little ones doing their thing, moving resources from here to there, busy pounding rocks with their pickaxes, and (Unfortunately) even died and left a small grave. (It wasn't entirely my fault, I ran out of beet soup briefly.)
Zoom in a bit and you can slide right off the edge of the village and look down on Onbu's big head as it's trekking. Zoom in a little more and you can clearly see this gentle giant and the surrounding biome, whether it's an arid desert or a cloud of poisonous spores. One level up, you can see a map showing points of interest that you can send village scouts to investigate (sort of like Frostpunk's exploration mode) and branching paths you can choose from (if you've built a horn, if Onbu is have the mood to guide). This game knows how to zoom. I also love the fusion of 2D and 3D art and animation. so cute.
Picture 1 of 7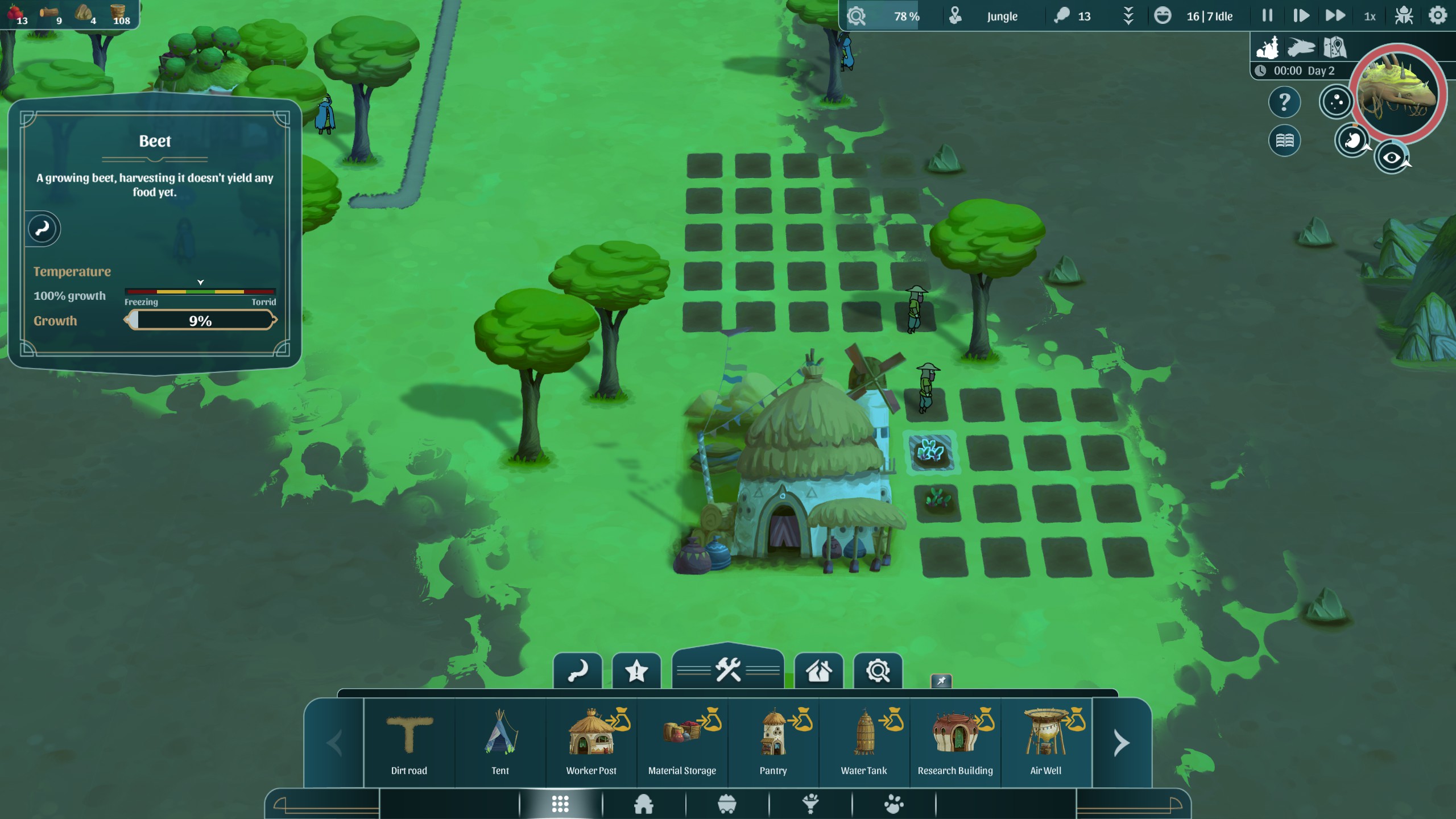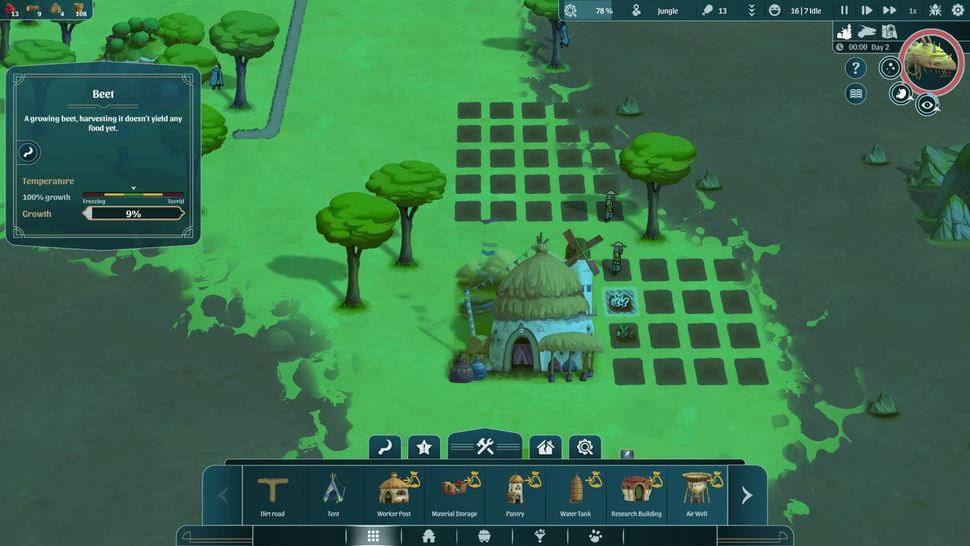 Picture 2 of 7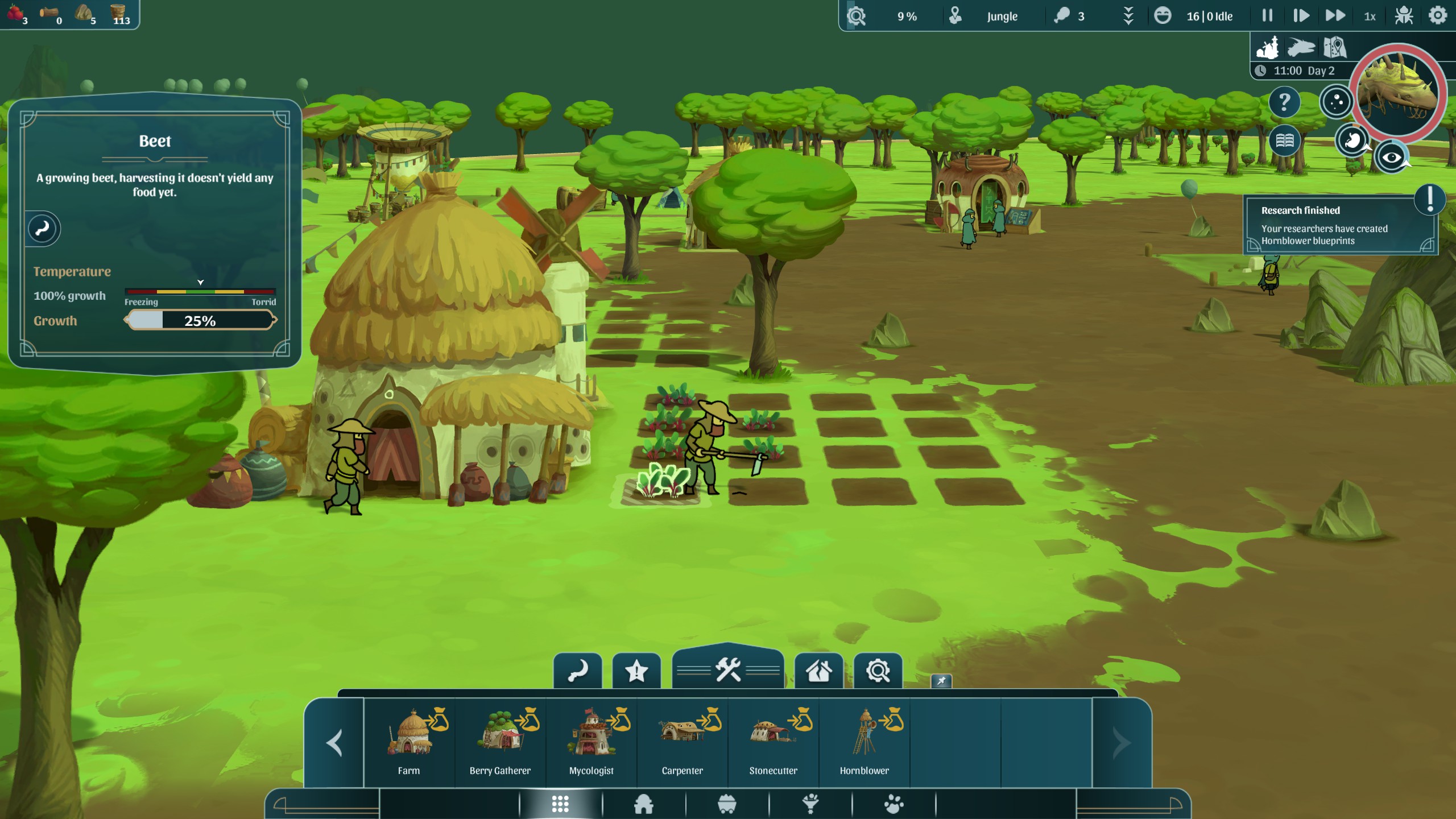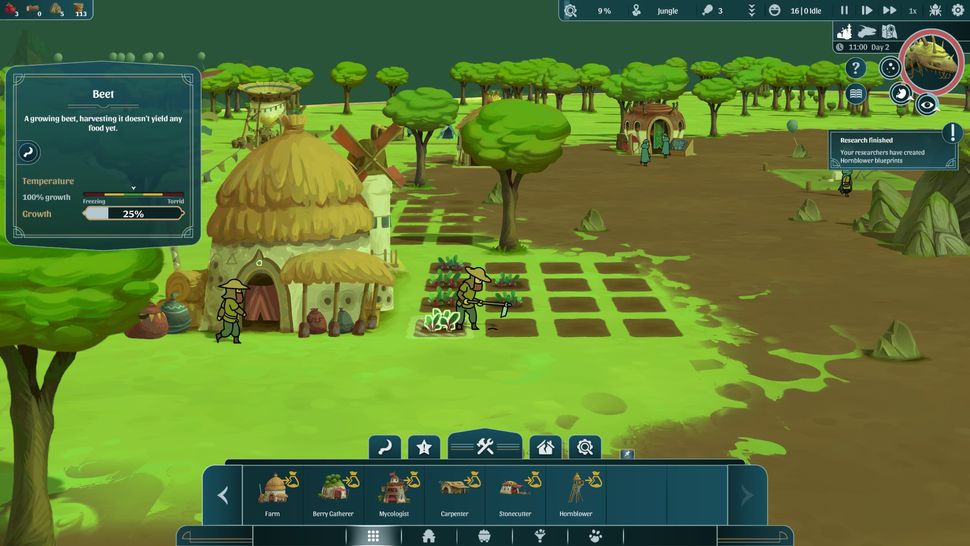 Image 3 of 7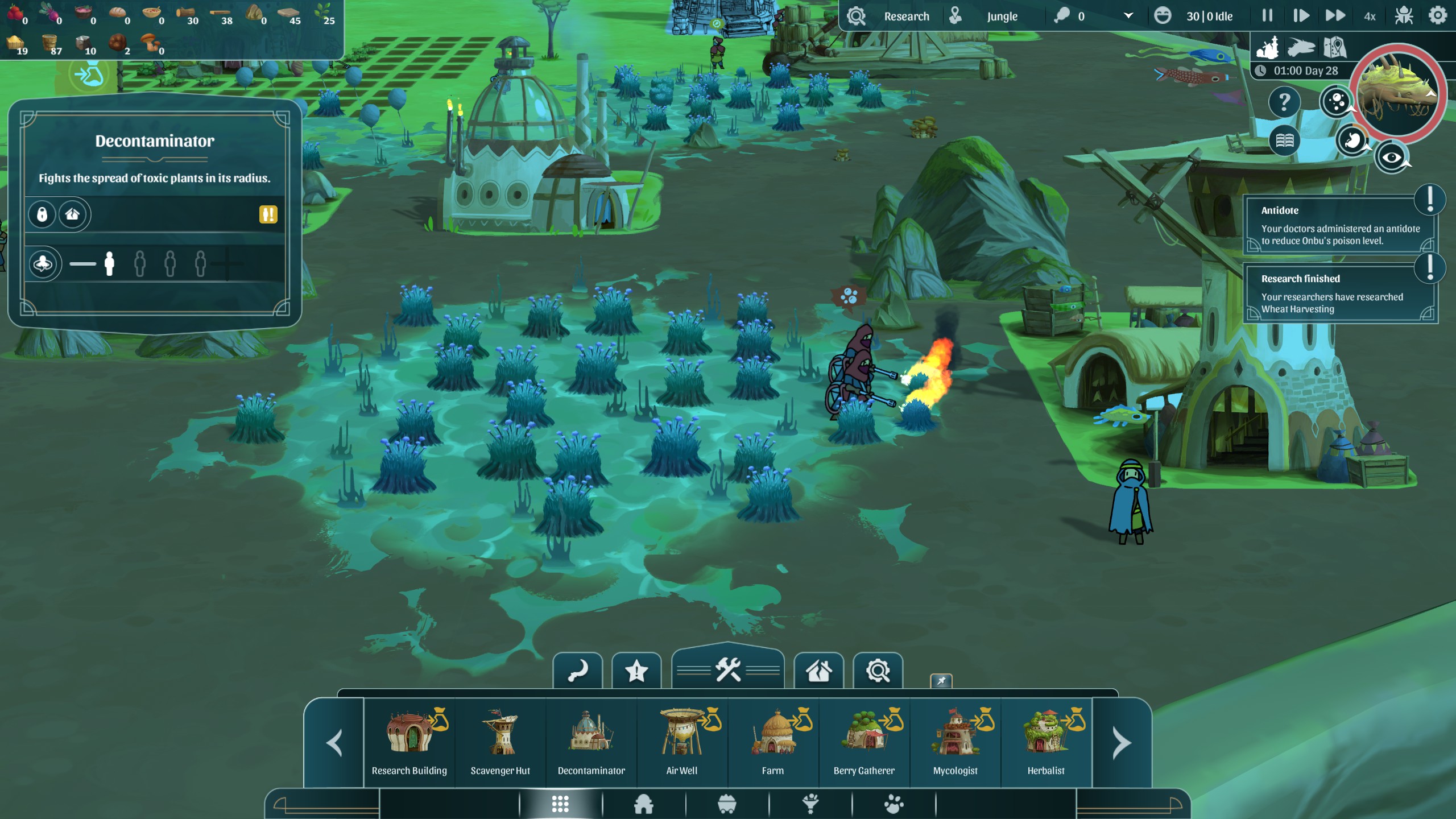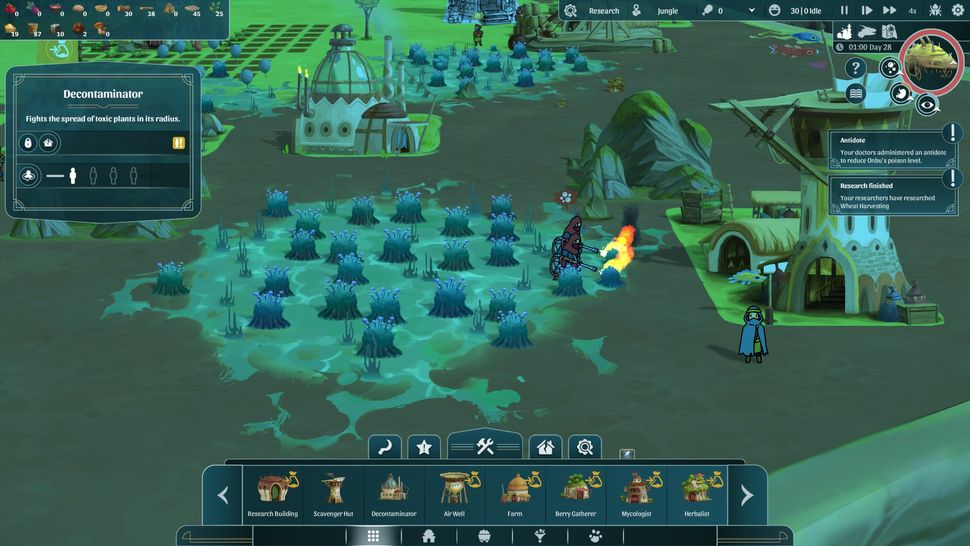 Picture 4 of 7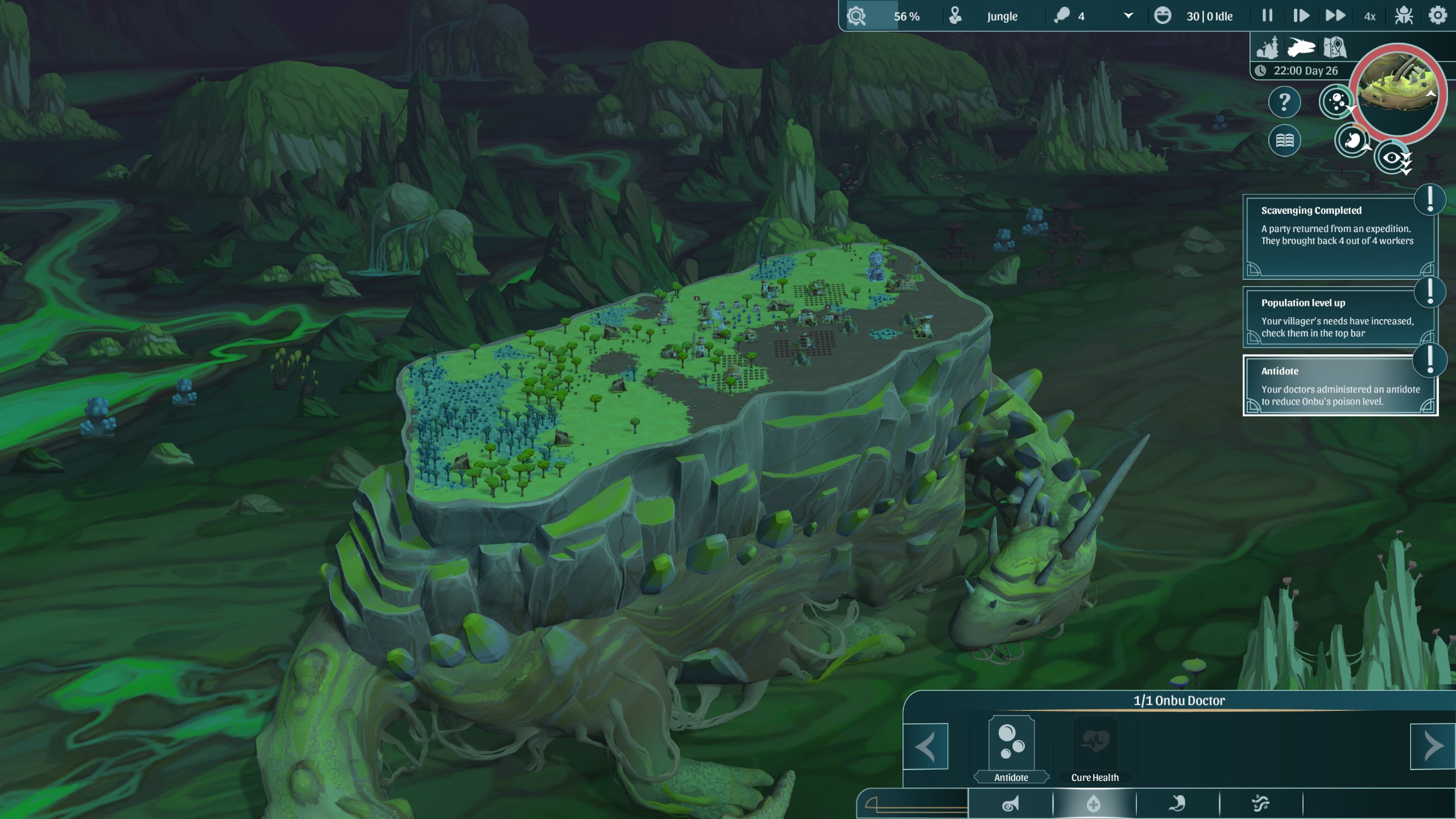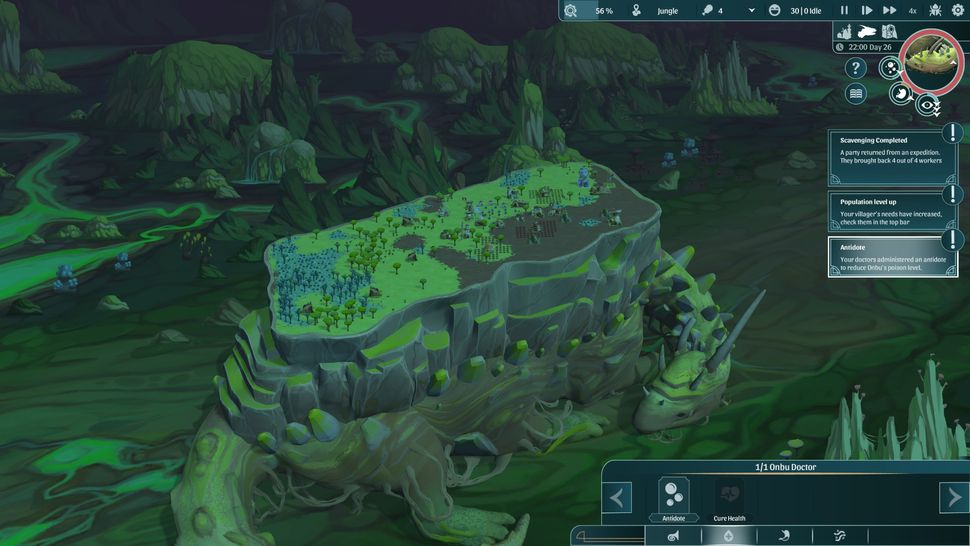 Picture 5 of 7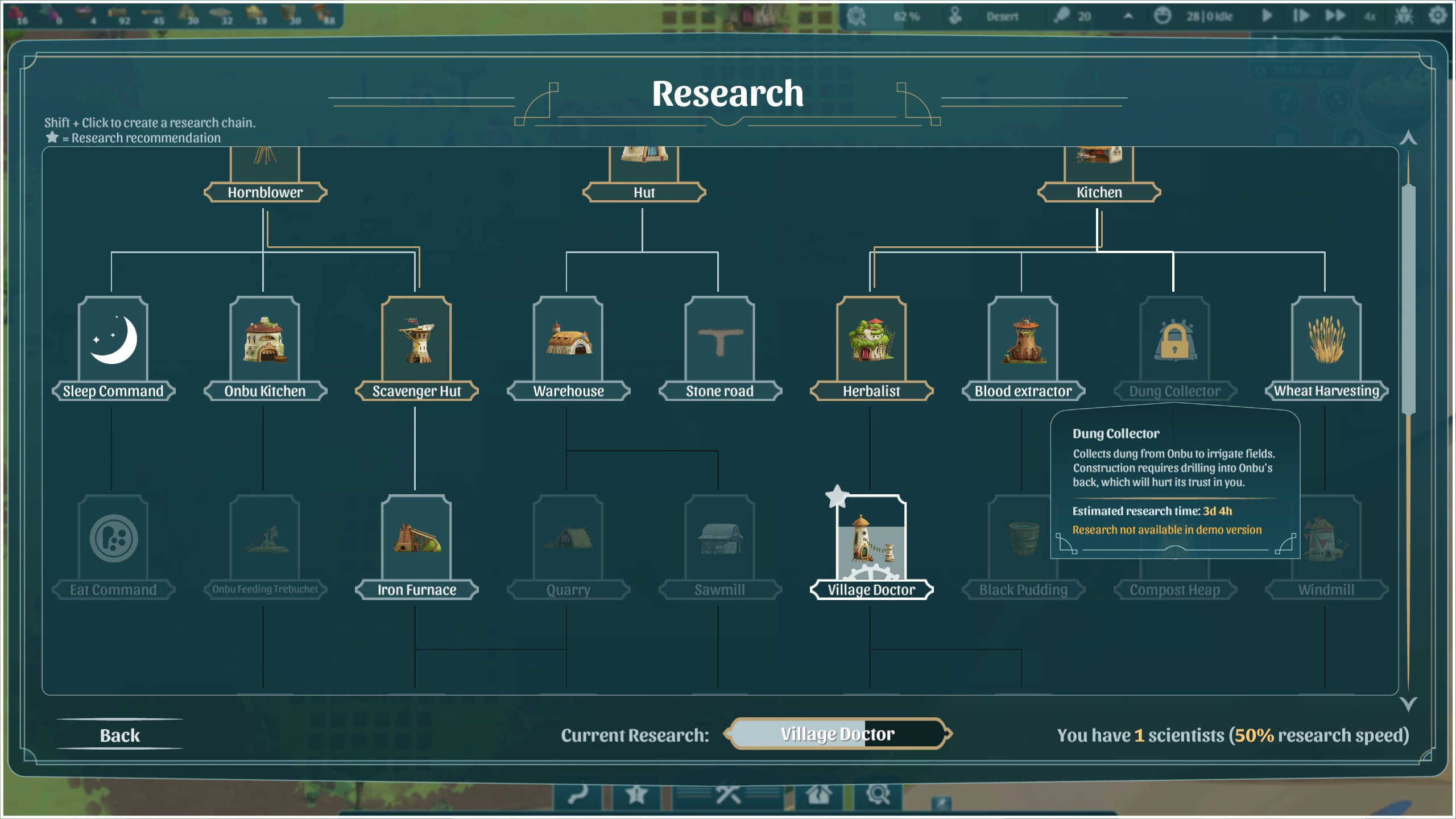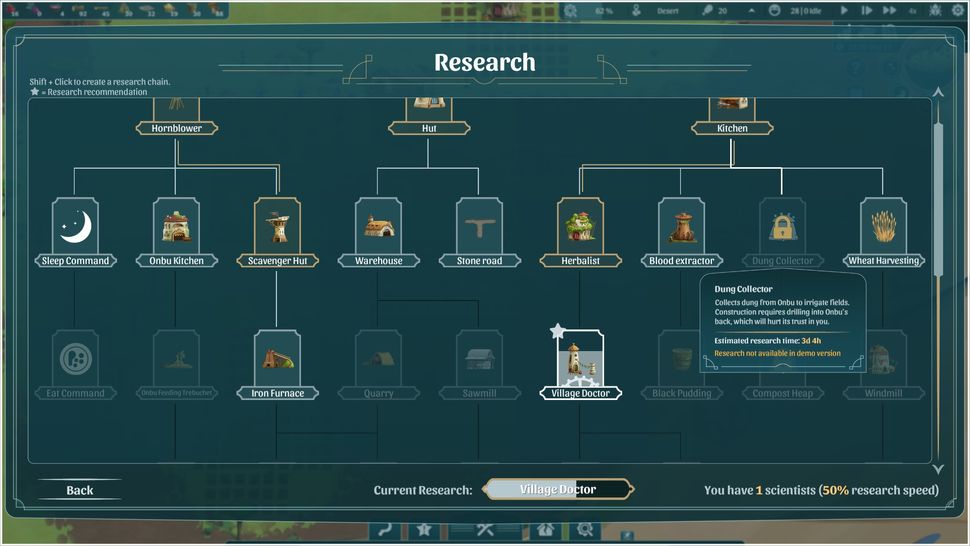 Image 6 / 7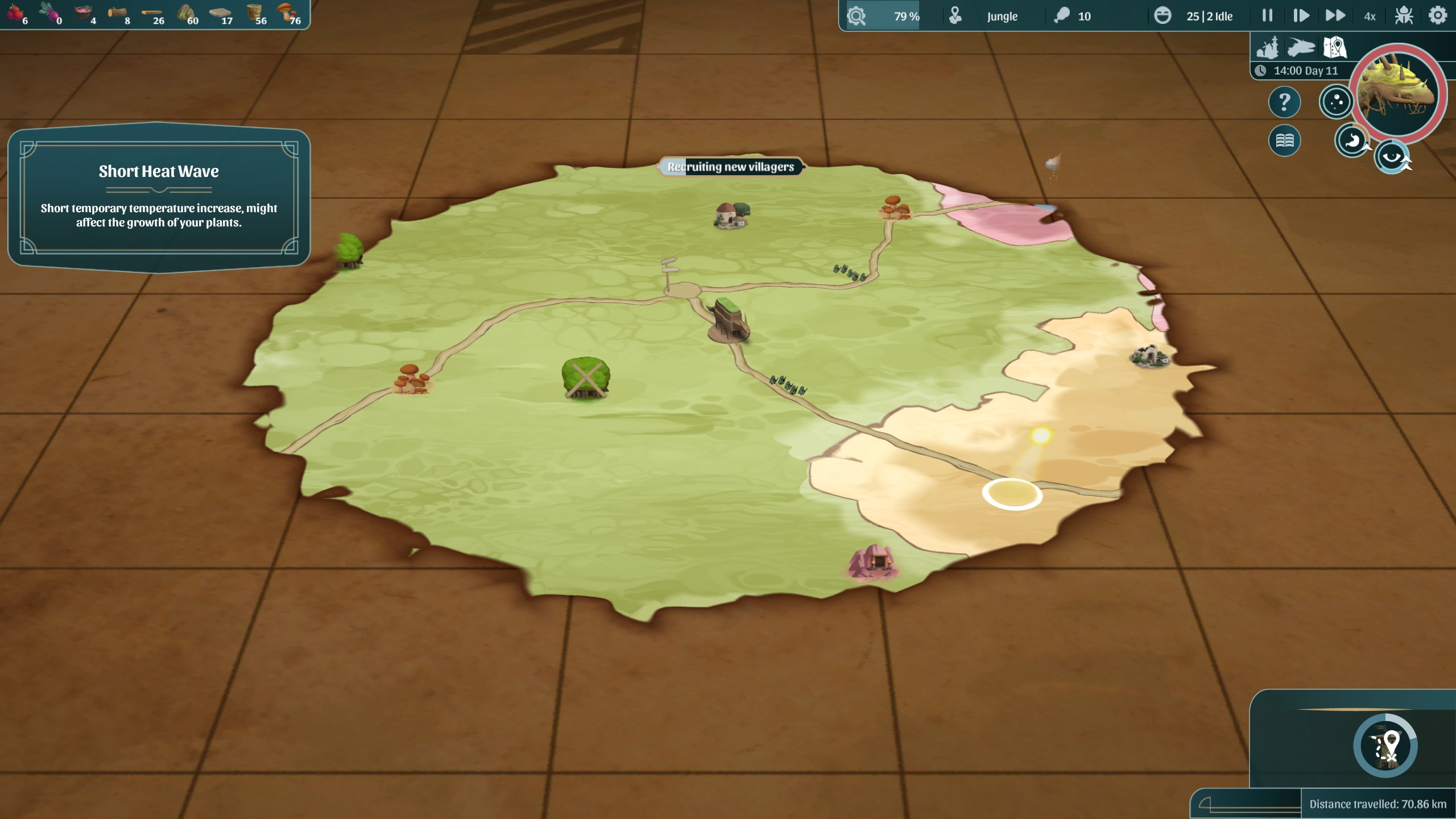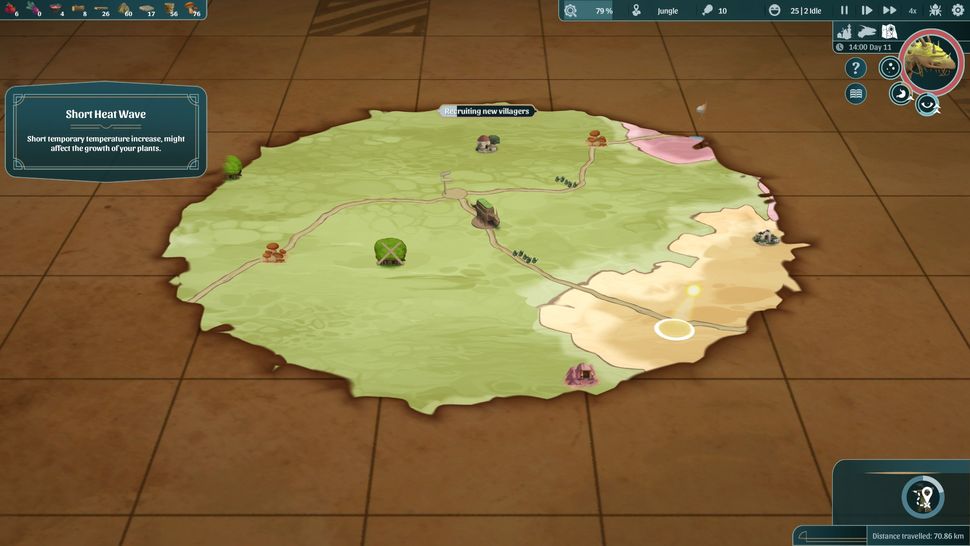 Picture 7 of 7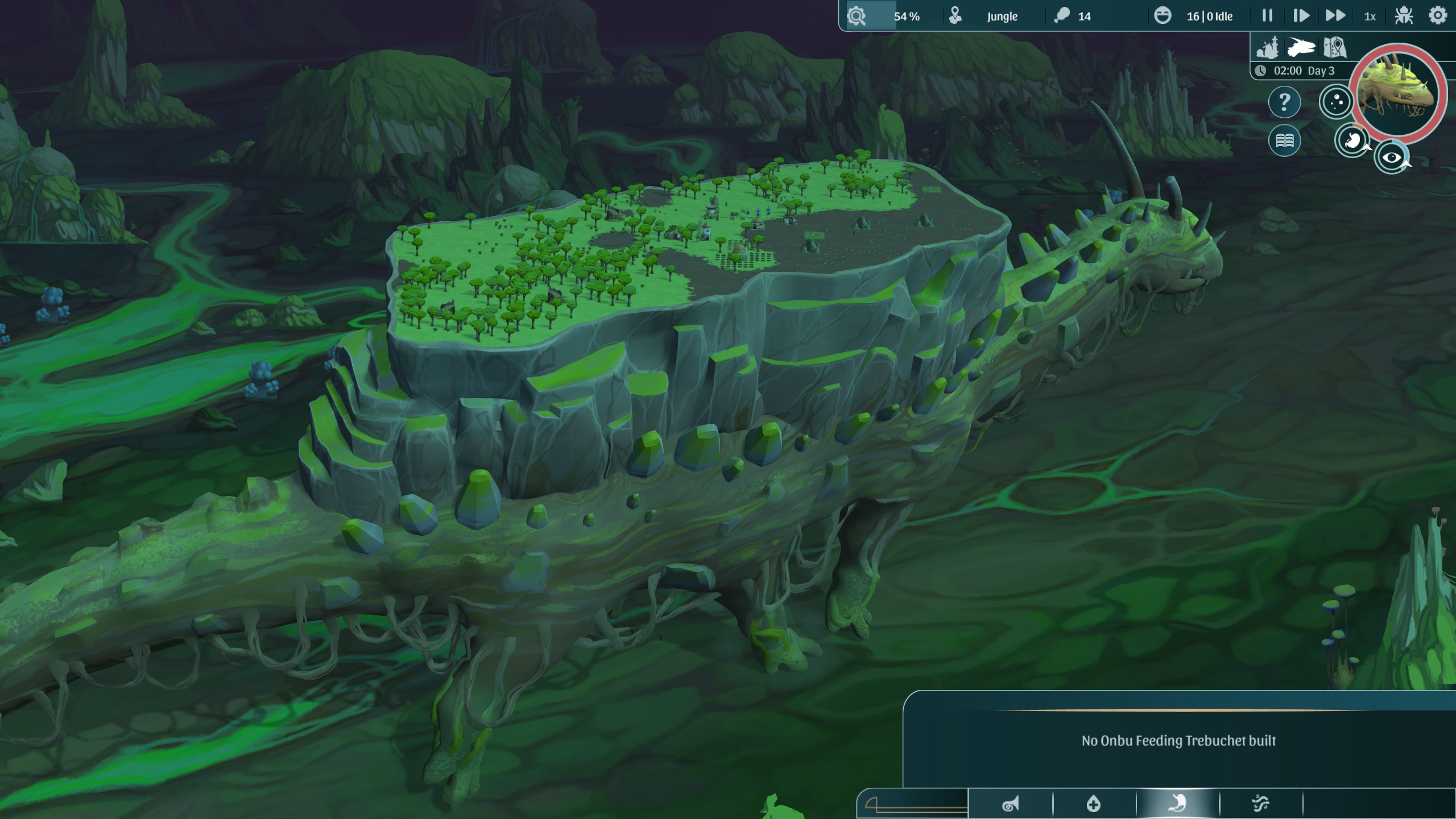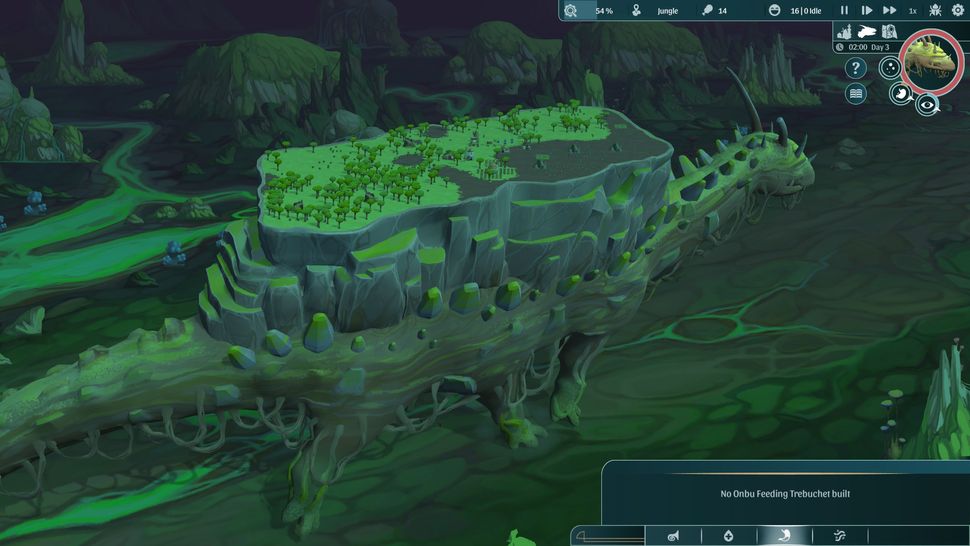 Not so cute: Those poisonous spores that Onbu occasionally passed by were a major problem for me in the demo. Those spores land and begin to multiply. And you can't ignore them, even if they only appear in a small corner of Onbu's back, away from the village, like they did for me. They spread at an alarming rate, eventually covering nearly half of Onbu's back, and soon the spores infected many of my villagers. I quickly researched and built a decontamination station (where citizens working would burn the fungus with small flamethrowers) but it was too late. Soon, almost all of my villagers fell ill. I finished the demo before everyone died, but it didn't look promising. At least Onbu is not bad, mostly because I made it a hot air balloon full of doctors, but didn't show the same courtesy to my real villagers.
I had a lot of fun playing The Wandering Village demo, and it won't be long before you can try it out. The demo will be available during Steam Next Fest starting February 21st.You can also take an internal test register here.