Settlers Hands-On: Build and Burn Cities in Ubisoft's RTS Reboot
Growing an empire is a balancing act. Extend your borders too quickly and you'll be spread thinly, an attractive target for enemy raids. Branch too slowly and another faction will grab precious resources before you. Balance it wrong and you'll see your empire burn down.
In the beta version of Ubisoft's The Settlers that I've been playing, I've seen my empire burn down many times.
Settlers is the latest entry in the long-running city-building and real-time strategy series, which began in 1993 for the Commodore Amiga. Since then, there have been six sequels, as well as several spin-offs, including a free online browser game. However, the past decade has been a rough one for The Settlers. An eighth game was planned for 2014, but its closed beta was not well received by players and the game was never completed.
This new reboot also caused some problems for players: it was originally intended to be released in 2019, then postponed to 2020, and then postponed indefinitely. Finally, The Settlers is now finally ready to release in March, with a closed beta planned for January.
The only mode available in the beta I've been playing is the skirmish mode, in a 1v1 or 2v2 match with other human players or AI, the empire shares a landmass on one of the two maps and tries to conquer it, while in Destroy each other in the process. So far, I'm usually the one that gets destroyed. On the plus side, I've learned something every time an enemy army destroys my defenses, destroys my buildings, and throws lit torches at my warehouse until it turns into a glowing pile of cinders. This may be little consolation for all my dead villagers, but each failure means I do a little better, and the next one lasts a little longer.
The early game was very simple. You start with a few units at the edge of the map: engineers to explore and occupy new territories, soldiers (some with ranged weapons, some for melee) to protect your turf or wage war with other factions, and villagers to deliver supplies to anyone who needs them place. Select buildings from the menu and click to place them, provided you have the resource, then draw roads to connect the buildings to each other. There are sawmills that turn logs into planks, quarries that turn boulders into blocks, houses that produce new citizens, and so on. The center of your empire is your warehouse, where the resources you gather are stored. You can survive other burned buildings, but if your warehouse is destroyed, it's all over.
My failures are usually that I am too eager to expand and push my boundaries too quickly. In The Settlers, rapid expansion is necessary because while the starting area usually has enough resources for building and food, the most valuable resources, such as iron ore, are far from the starting border. Blacksmiths need iron to make weapons, and ordinary villagers need weapons to become soldiers. Not only do you need to find and claim those distant mines, but you also need to do so before your enemies.
That means expanding as fast as possible – sending troops of engineers to widen your borders, capturing promising territories, and the process of conducting long surveys of areas for signs of buried minerals. At the same time, you need to build wheat farms and windmills to produce grain, fishing huts and bakeries for food, pastures to produce donkeys to speed up the transportation of goods or to make delicious steaks to increase the production of certain buildings. Make workers more efficient.) It's laborious to manage while keeping an eye out for other AI or human players. They're somewhere on the map and they're as busy as you are.
The real problem with sappers is simple: they can't fight, but they can be killed. This means that if you send them to find iron ore and expand your territory, you should consider sending soldiers with them to protect. Not only can soldiers from another faction find and kill your engineers, but there are bandit camps on the map that can pose a threat if they are led astray. On the other hand, if you let your soldiers leave base camp to escort your engineers, who will defend against the raid? Also, a big balancing act common to many RTS games.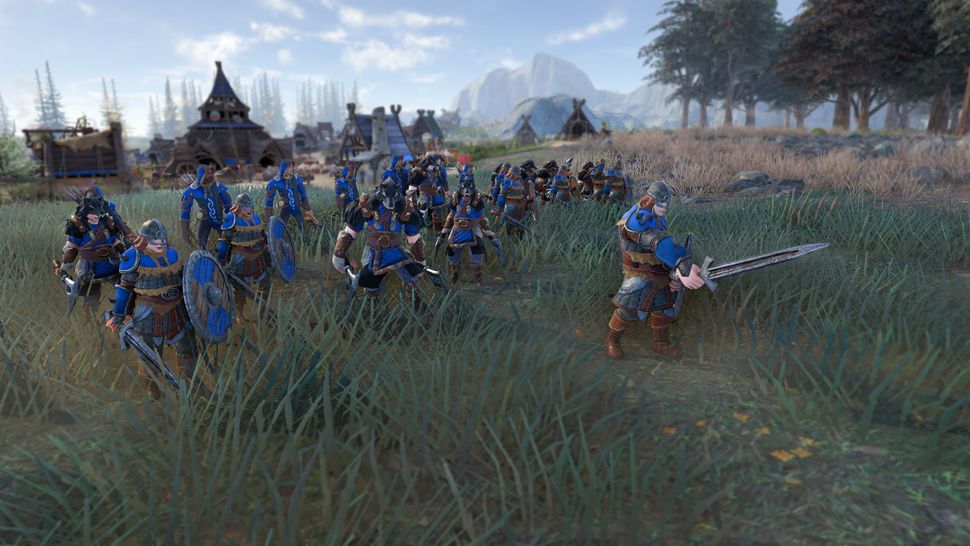 There are some useful defensive structures like towers that can rain arrows when approaching enemies, and they can be great for protecting your borders or important structures. But to get the materials to build these towers, roads need to be built, supplies need to be transported, and the further away you are from your settlement, the longer it will take. As happened to me, your enemies could approach from a completely different direction, setting your town on fire while your towers feebly guard a non-threatening area.
I've finally had some success with a military strategy that I like to call "do what my enemies are doing, but do it first." After a raid on the western edge of my territory, I set up two towers and guarded them with soldiers until they were built. Then I sent all my soldiers east on a long circular path and turned them southwest again. When the next raid reached my tower, I ignored it and sent my soldiers deep into enemy territory. There is no army to fight because they are busy burning my stuff on my turf. Instead of taking down the enemy towers, I bypassed them and started throwing torches at the warehouse. Meanwhile, the enemy finally destroyed my tower, but taking the time to do so meant they didn't burn my warehouse the way I did theirs. Finally won.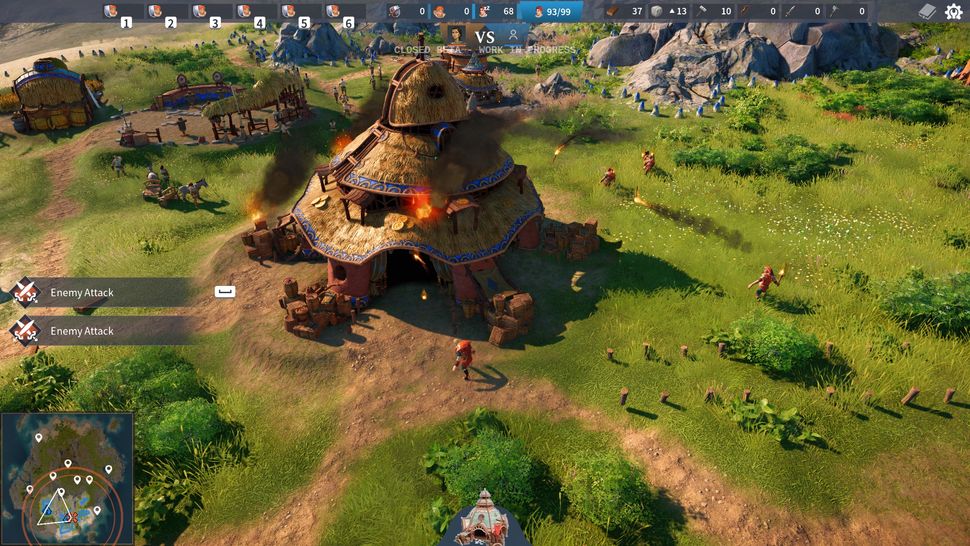 I've had a great time with The Settlers so far. As a reboot of the series, it doesn't feel like an ambitious remake that's trying to upend the genre — which might actually be a good thing. Not every game needs to completely redo the familiar systems that players love. While I wasn't overwhelmed by the skirmish mode, it's a good challenge that requires a lot of focus with so many moving parts.
But the hustle and bustle of construction and rapid expansion isn't my preferred way to create an empire (in general, I prefer city builders to RTS games). I like a little more time to plan, manage and slowly scale. So I'm looking forward to The Settlers' campaign mode, unfortunately, the build I've been playing doesn't include it. The campaign will feature a storyline with different characters and allies to meet, as well as building different biomes in arid deserts and lush green pastures. There will also be an onslaught mode (which wasn't the beta I played either), where players can use skirmish maps with custom settings like fewer resources or more enemies for bigger challenges.
Settlers will be released on March 17th (hopefully this time for real). A closed beta is planned for January 20-24. In order to have the opportunity to participate, you can register here.