Tom Nook knows nothing about Disney's most hated villain, Scrooge McDuck
If I asked you to name some of the most hated Disney villains, you might say something like the Evil Queen from Snow White or Scar from The Lion King.Sure, they've earned a bad reputation, but in Disney's Fantasy Valley (opens in new tab) There is nothing more evil than gold-loving, top hat-wearing Scrooge McDuke.
After Disney's Dreamlight Valley rolled out to Early Access, DuckTales' feathered billionaire began to be compared to capitalist critters and Animal Crossing landlord Tom Nook, with the two seemingly playing similar roles on their respective islands.
When you get to the island in Animal Crossing: New Horizons, it's largely a fixed upper that doesn't look like it unless you shell out a lot of money for Tom Nook It's the best – it's a slow process, which means you'll get into long-term debt to a rich raccoon. Pay off one debt and he'll just lure you with another loan.
Disney's Optics Valley follows a similar pattern, only it has a more sinister twist. You don't just rock around the island and discover that it needs some work – you'll soon be told of a curse called Oblivion that has completely wrecked the status quo. People can't remember things, there are these terrifying night thorns everywhere, and what's worse… the characters are missing, trapped in the void somewhere. Pretty creepy stuff.
While Tom Nook and Scrooge McDuke are both nasty little hoarders of wealth, Scrooge is the greater of the two evils. Nook may leave you in debt, but ostensibly he does want to help you. Meanwhile, Scrooge has plenty of opportunities to help those around him, but he refuses to do so out of good intentions, asking instead for something in return.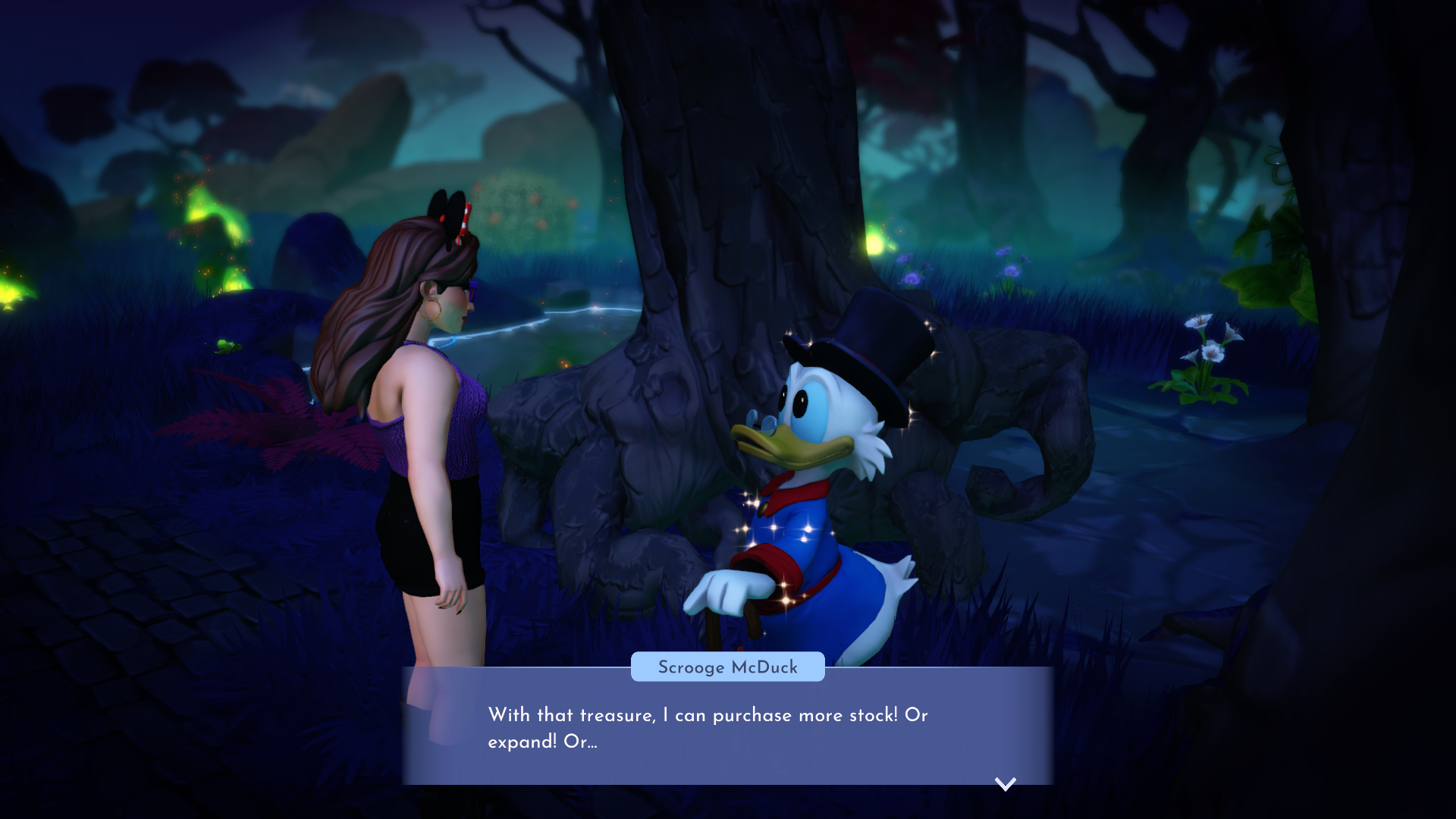 Throughout the game, even the best characters will ask you to run errands for them, which usually involves some foraging, digging, or mining to craft something. It's annoying that they can't do it themselves, but what you're doing always makes sense and you're helping the valley look better or function better. Scrooge's mission, on the other hand, is completely selfish, and he'll send you on a pointless wild goose (duck?) chase until he's willing to help you.
Scrooge didn't seem to care that people were apparently floating in the void and could be in danger. When I tried to track down Prince Eric with Ariel, Scrooge had a broken statue to help, but he not only gave me that piece, he had no interest in helping me unless I brought him five olives Stone…no real reason. He doesn't want me to make anything or use them to track Eric, he really just wants some nice peridot to stick in his vault, or "money box" as he sometimes calls it. It's so damn cold, Scrooge. Eric might die here.
Another of his assignments had me tracking down his vault password, which he apparently forgot, you guessed it, forgot.Of all the things he needs help remembering, he even wants to visit more wealth. His entire world revolves around money, and even though his home is cursed, his friends, family and neighbors are in danger.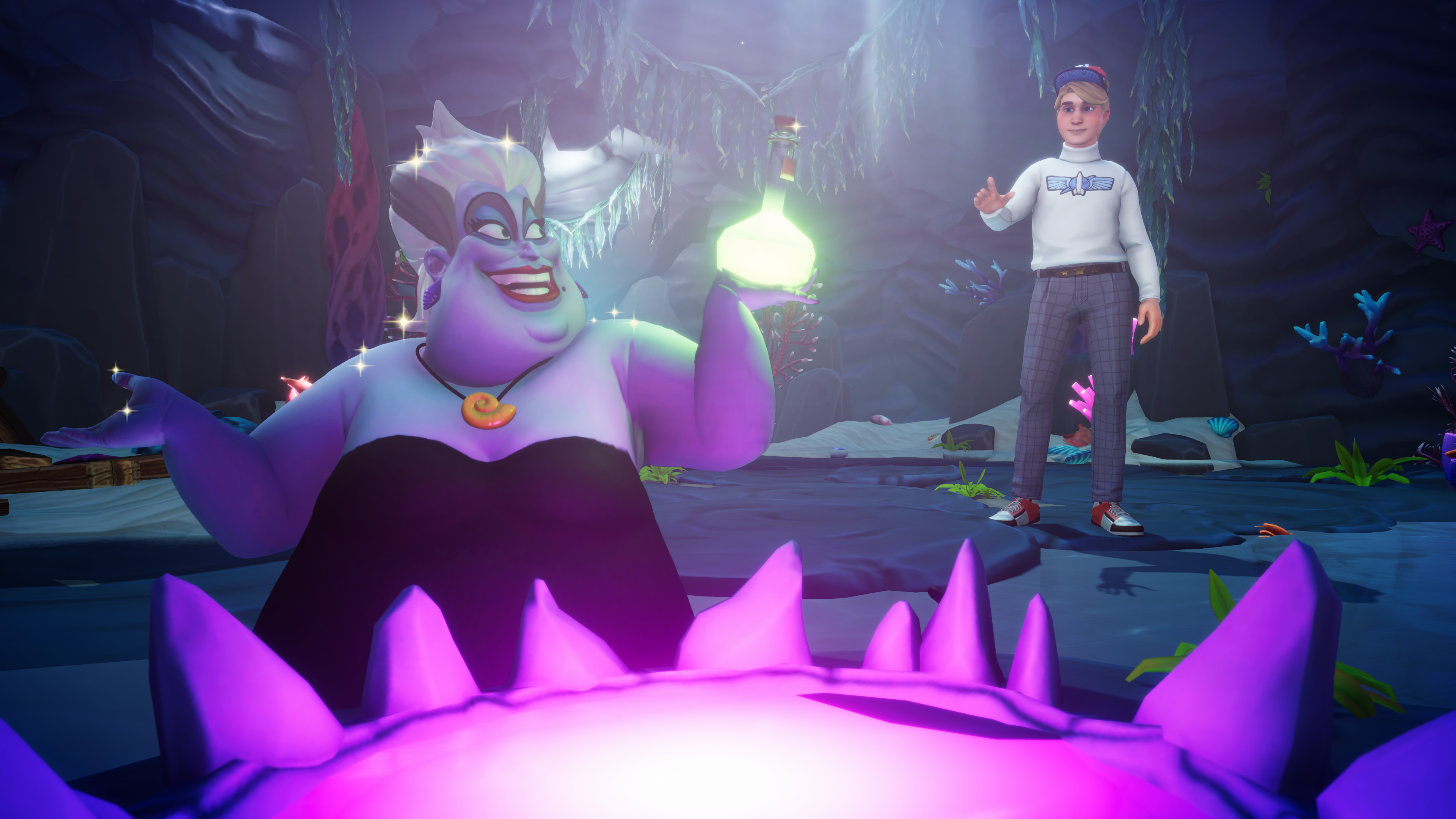 Most characters have healthier motivations. Mickey wants you to help save Minnie, Anna wants to rekindle her love for Christopher, Christopher gave up his memory for her, and Wall-E just wants to build a beautiful garden for the community. This makes Scrooge's greed even more prominent.
He's also stingy with rewards, although I put a lot of money into various "investments" in ducks, leveling up he himself Store and keep paying to use the wells around town as a quick trip. If he cares so much about all these investments, why doesn't he contribute something? Why do I have to do everything including wearing a t-shirt with his own face and doing free marketing for the store to accomplish tasks I still hate? Actually, in principle, I make sure the sign is pointing in the wrong direction, not that there are other shops nearby to visit.
Here's a picture of me wearing a Scrooge advertised, and you see, he's even holding money in it! He just couldn't help himself. He was always showing off even when I wanted to take a nice selfie. is this necessary?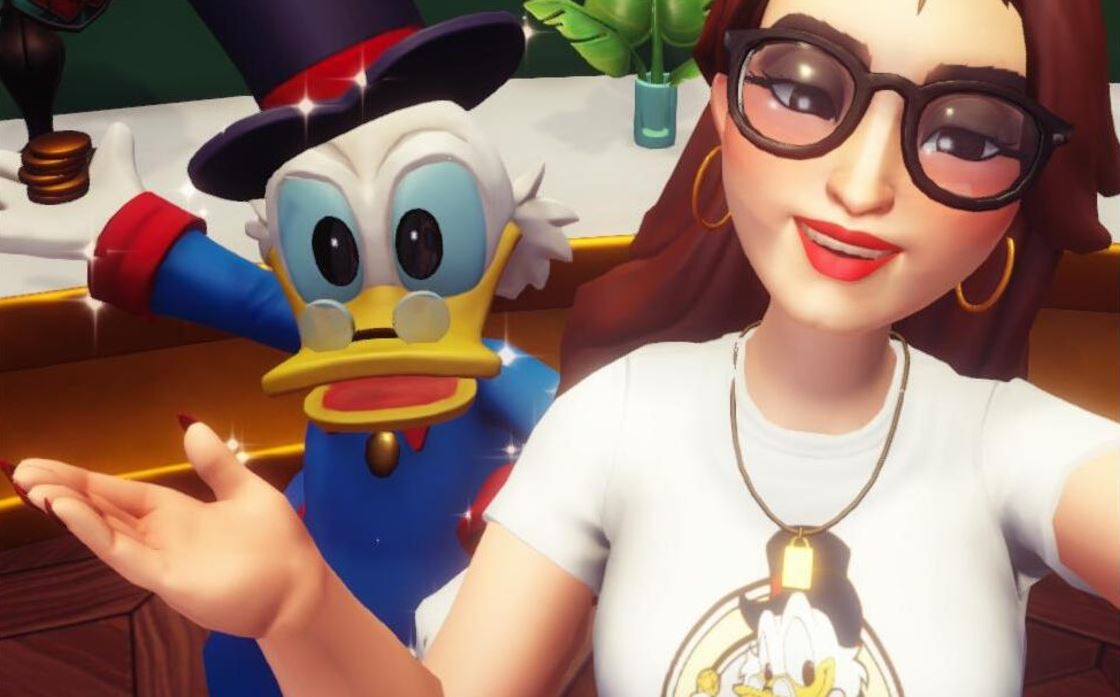 My friendship with Duck is now at level 10 (I use the word loosely) and his last quest is just as annoying as the first. I don't want to spoil it for those who haven't progressed that far in the game, but you wouldn't be surprised to find it involves money again. I hoped he would change his mind and do something good, like his nephew Donald's wholesome final mission, but no. He sends you on another adventure just to make him a decent profit.
As of this writing, there are two "real" villains living in the valley: Mama Gossel and Ursula. But, in reality, Scrooge is no better than these two notorious villains. He is equally egotistical and self-centered. He even got into an argument with Ursula at one point because she was making deals with the inhabitants and God forbid anyone should take any business from Scrooge.
Sure, Ursula's deal is shady, but let's not pretend Scrooge cares about that. He just can't stand the idea of ​​others making money, and he wants people around him to do as much business as possible. He can even control Goofy's produce stalls, and to expand them you have to pass him first. Again, instead of raising his wings to help, he profited from the work of others. It's all enough to cement his status as the most vicious resident of Disney's Valley of Dreams.
We should really boycott this lousy duck shop.