What was the last game that made you cry?
A few years ago, we asked if there was a game that made you cry. Since then, the art of extracting player's tears through digital means has probably been further refined. Maybe the sad cowboy does this for you, or the sad high school student, or the sad parents, or the sad ladies have great swords. (Sword is also very sad.) We have many different kinds of gloom in the field of video games. Which one hit your tear duct recently?
What was the last game that made you cry?
This is our answer, and some from us forum.
Natalie Clayton: When I was with Sable recently, I almost cried. The opening of the game provides a warm and sincere sense of community. You know that you are about to leave. When a child admits to stealing something just to keep you around, it feels like a punch. But if we are talking about the whole water plant, it must be Pyre. There is no doubt that one must be selected from my team to be liberated from the purgatory of our wizarding movement, which made me burst into tears all the way. This is a bittersweet farewell-not knowing they are going to a better place, you may even see them again, but keenly aware that they once filled the space in your caravan.
Sean Prescott: Since she was three years old, my daughter and I have built a town in Minecraft creative mode. Since I dealt with control for her, this town started to be a little weird and experimental-I just wanted to show her crazy unrealistic things you can do. Then, once we have a better plan and we become better builders, it will spread in a smarter way. We built a town square, a supermarket, many row houses, an aquarium and a "pink fairy mountain" (pink platform on top of a snow-capped mountain). In the past three years, the town has gradually grown. You can trace her development process at the age of six: the part I did, the part she did when she was studying, the part she is now proficient in.
Now my four-year-old son is involved, and there is a strange apocalyptic emptiness to the west of the outdoor restaurant (he will get there). Sometimes I marvel at this world and how it captures a small part of my child's growth. This is a melancholy memory, more like listening to a song than looking at a photo. Yes, it made me cry, but only a little bit.
Robin Valentine: This has actually been for me for some time. I don't know if this means that the tragedies in the games I play these days have decreased, or my heart has become harder and harder. I do think that "emotional independence" ends up being so clichéd that I now often find it difficult to really get lost in these stories. And if you post any Pixar movie on my TV, I will cry before the end of the first act.
I'm pretty sure I shed tears for the last season of Telltale's "The Walking Dead"-after such a long journey with Clementine during these games, plus its additional meta background is the end of Telltale as a studio. Finally, it is hard not to feel melancholy.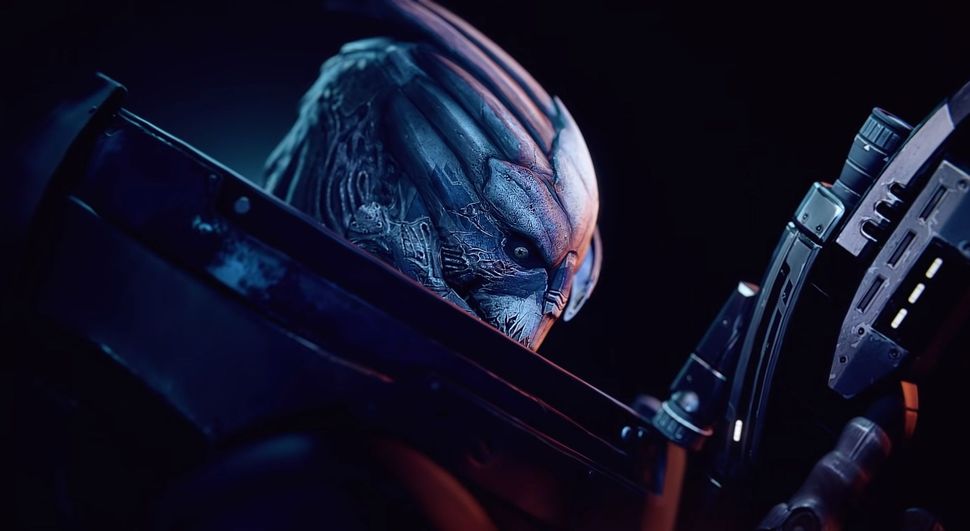 Lauren Aitken: The last conversation with Garrus and FemShep made me cry for the billionth time while playing Mass Effect Legends. Their romance is one of my favorites, because you see them become so vulnerable to each other, the side they will not show to anyone else in the galaxy. The jokes about meeting at the bar are hit every time, the final "I love you" and "Your boyfriend has an order for you: come back alive". If I can, my huge bird-like love. However, he is still not ready to talk about what happened to Arthur Morgan.
Richard Stanton: Skating or death: Bad'n Rad on Gameboy. This is one of the games. When your three lives are over, you are back to the beginning. This is a bit of a bastard. I took my life to the last boss, and he still let me in. I hit the screen with my head in frustration and cracked it. Tears down and told my dad that I dropped it on the floor, and he somehow changed it. The perfect crime.
Tim Clark: Like, obviously I am not completely full, but the closest I am to is at the end of Killer7. Before that, I found this game to a large extent-a cel shadow, partly on-track shooter-as absurd and stylish. That is to say very much. You play as an old assassin, locked in an ancient battle with a seemingly immortal opponent. Since you have *check Wikipedia* the multi-leaf personality phenomenon, things get more complicated, allowing you to behave as seven younger assassins-Killer7 Group. Between bizarre puzzles, geopolitical suicide bomber conspiracies, and frequent mentions of the Smith band (yes, the band), it can be said that I deal with what is going on better than a newborn baby with an electric drill. Lax.
I still don't pretend to fully understand the ending, but as part of the last few levels, there was a revelation that changed the player's view of everything before and cast a melancholy light on the madness of the art museum. This is the kind of carpet pull that people like in movies like "Normal Suspects" and "Prestige", although I can hardly say that it has a traditional meaning. Once Mulhollando's narrative becomes the focus, you will intuitively understand its meaning in the same way. For most players, I still cannot conscientiously recommend Killer7 to most players—even though it is only $12 on Steam now—but it has always been with me because this game makes me feel truly sad.
Sarah James: Recently, it was Final Fantasy XII. The party went to Eruyt Village. Fran had to tell her sister some cruel truths. However, I don't think I can pass any FF games without crying. before that? Fata Morgana's House or World of Warcraft's Sylvanas War Messenger movie (if important). Kills me absolutely every time.
Steven Messner: Speaking of movies and games, I'm a crying guy, but the last time I real It's called Tsushima's Soul. I won't spoil it (because it's still a great game even though it's not on PC), but the duel near the end is very emotional-even if I suspect the showdown will eventually come. This is interesting because I have also stopped playing this game for several months, and only recently picked it up again, because I bought a PS5 and there is nothing to play, so I am not even so obsessed with this story. But that scene really brought me back to the drama. It was almost eight o'clock, and I was just sitting on the sofa, tears streaming down my face.
Wes Fenlong: I think the end of the fortress makes me a little choked. I'm really not ready: after the war, take Zulf to a safe place while being bombarded by arrows, except for moving on and listening to music… Damn, that was a moment.
However, the one game I am always excited about is Final Fantasy 9. I don't think it made me cry completely, but every time I finish it and watch the last scene in the theater, my heart is deep in my heart. It's basically this gif every time Garnet makes her rush to the stage.
Morgan Park: Disco Elysium really covers all kinds of emotions. Its stories and characters are often funny, sometimes thrilling, and sometimes tragic. For those of you who haven't played our current number one game, this is the area of ​​spoilers, so be careful. Throughout the story, your character gradually discovers his drunken and destructive behavior before the amnesia (the game starts). A lost badge, a pawned gun, a coat you forgot to have-my Harry couldn't restrain his embarrassment and shame when he relived his actions. It broke my heart every time, but I didn't burst into tears until Harry and Kim shared a moment on the swing, waiting for the ebb tide to reveal the mysterious car sinking into the bay. When Harry slowly realized what King already knew, the conversation treated the moment so delicately because the two were thinking about what might happen. This is Harry's car. He took part in a dangerous, drunk drive. The clues were there, but when I was as surprised as Harry was, it became overwhelming. Very effective writing.
Cleve: Could it be a journey? It may be tears of joy.
Flindy: Metro Exodus. The friendship in that game was portrayed very well, and it really made me cry a tear or two after the credits rolled over.
main: Even outside of my gaming life, I don't cry too much. I find that few games have the emotional power of stories and characters that can trigger such sad emotions to the point that my eyes are actually tearing. Browsing through my game library, a game that always makes me cry is a choice in Mass Effect 1, when you have to make a decision to sacrifice Kaiden or Ashley on Virmire. I have never played a game series because it made me interact with characters/companions so emotionally. I always shed at least one tear over that decision.
Exchange: When my save is damaged, I just cry for the game. This happened in a Doom Eternal game I played through the Bethesda Launcher. At the end of the first dlc package, my entire file was corrupted. So I turned it off without interrupting the second one.
McStabStab: I never really cried during a game. The only time I got close was in some ending cutscenes of Death Stranding. As the father of two little boys, the paternity of that game resonated with me.
ZedClampet: I browsed my library and honestly, I think the game never made me cry. I think the most emotional game I have ever played may be To The Moon. Outside of games, the only art form that can bring me that level of emotion is music and books that may have a happy ending. To be honest, sad stories only irritate me, and I usually avoid them. Why should I be sad?
Zlos: I have a few tears at the end of The Witcher 3. I got the ending of Hilly becoming a queen. The best ending, IMHO. The world needs her rule more than she kills the beast.